Despite the euro's 8.2% drop against the dollar since mid-March, European companies continue to grapple with the currency's overall strength.
STMicroelectronics NV is a case in point. Carlo Bozotti, chief executive of the Geneva-based chip maker, says the euro is among his biggest headaches. As growth slows in the chip industry and his bankers forecast that the euro, despite its recent slip, will remain relatively high for a while, Mr. Bozotti says he can't afford to wait any longer to take tough steps to boost competitiveness and profitability.
Mr. Bozotti is shifting costly, less productive European manufacturing to Asia. As part of these efforts, STMicroelectronics recently announced it would cut 2,300 jobs in Europe. Mr. Bozotti also wants to move all the manufacturing of what he calls "more mature," or commodity-type, chip products to Asia over the next five years.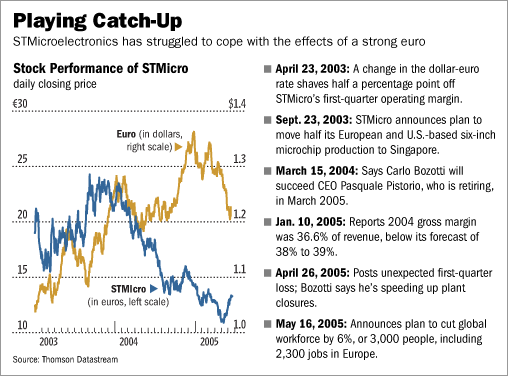 STMicroelectronics' predicament shows that the still strong euro -- it remains 48% higher against the dollar than it was in late 2000 -- is a big handicap for companies that may only now be taking steps to restructure their businesses in the face of low growth and rising competition. Reasons for this delayed response vary, including European labor laws, which make restructuring difficult and, in some cases, management that simply didn't confront the combination of the market and currency downturn with enough rigor.
"The outside world is bored of blaming everything on the euro-dollar, but it is a huge problem. A huge problem," says Wolfgang Ziebart, the CEO of German chip maker Infineon AG, which recently displaced STMicroelectronics as Europe's largest semiconductor company by revenue. An Infineon spokeswoman said that the chip maker isn't making specific business changes as a result of the strong euro but that the company does engage in hedging strategies to help offset the impact.
While European chip makers have been hit particularly hard by the exchange rate, they aren't alone. Other companies that produce in the 12-nation euro zone and rely on overseas buyers, such as luxury watch and jewelry maker Bulgari SpA and German car maker Volkswagen AG, have also seen their growth either contained or reversed by the euro's strength in recent years.
Volkswagen, for instance, has been shifting the production of its Jetta models to Mexico from Europe since last year. The company also plans to increase production in Mexico of other models as part of efforts to make cars in the currency zones where it sells them.
In March, Mr. Bozotti took the helm of STMicroelectronics, the world's sixth-largest chip maker by revenue, when he succeeded the company's long-serving CEO, Pasquale Pistorio, and he has been scrambling to restore the company's competitiveness. STMicroelectronics makes chips for mobile phones, printers and cars, among other things. It counts Nokia Corp., the world's largest maker of handsets, among its customers.
As is the case with oil, microprocessors are priced in dollars. With 70% of STMicroelectronics' costs in euros, the unfavorable exchange rate has slashed the company's operating profit and even pushed it to an unexpected loss last quarter. STMicroelectronics' finance department does some currency hedging, but it hasn't been enough to offset the damage incurred from the dollar's weakness.
"The performance of our company in recent past quarters has not been satisfactory," Mr. Bozotti told analysts and investors at a recent conference in New York. "Our market-share gain has come to a halt."
To be sure, the euro is just one of several factors affecting Mr. Bozotti's business. The semiconductor industry generally is wrestling with overcapacity. STMicroelectronics has suffered criticism for a behind-the-curve culture when it comes to technology and a management that has preferred stability for its work force at the expense of growth for investors, repeatedly issuing profit warnings and missing targets. The company also is facing stiff pricing competition from Asia and the U.S., particularly with its memory chips, which store data on phones and cameras.
In a recent interview, the 53-year-old executive said moving plants and manufacturing to Asia and other initiatives should reduce STMicroelectronics' costs by more than $500 million annually. He said he is also refocusing research-and-development resources and is betting that a new generation of chips designed to power new gadgets, such as high-definition televisions and video-enabled cellphones, will help drive growth.
While investors welcome Mr. Bozotti's efforts to reinvigorate the business, some question whether the measures he is taking will go beyond the currency issue to tackle STMicroelectronics' fundamental weaknesses. "It's not a foregone conclusion that it will be a success," says William C. Conroy, an analyst at Sanders Morris Harris in Houston, of STMicroelectronics' restructuring. Sanders Morris doesn't have a banking relationship with STMicroelectronics. Mr. Conroy, who owns shares in the company, has a "hold" investment rating on the stock.
Mr. Bozotti says the euro isn't the company's only issue. "We clearly have challenges," he told investors at the recent conference in New York, citing industry overcapacity and falling memory prices. Addressing high costs, including the euro, is key to his strategy, he said.