Sotheby's Shares Leap Higher On Rumors of eBay Merger
By LAURIE P. COHEN and ALEXANDRA PEERS, Staff Reporters of THE WALL STREET JOURNAL, February 29, 2000

Sotheby's Holdings Inc. shares took a wild ride Monday on rumors of a possible takeover, but mergers and acquisitions specialists say a suitor for the company is unlikely until its potential liability in an unfolding antitrust probe becomes clear.
Sotheby's shares surged 22% early in the day following reports that eBay Inc. planned a $1.6 billion bid to buy the auction house. Later, after online auctions giant eBay denied the reports, Sotheby's fell back to $21.3125, still up $1.8125, or 9.3%, from Friday's close in 4 p.m. New York Stock Exchange trading. Sotheby's 52-week high is $47.
The U.S. Justice Department is exploring whether Sotheby's conspired with its main rival, Christie's International PLC, to raise the fees charged buyers and sellers at art auctions.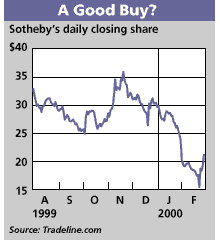 Last month, Christie's said it received "conditional amnesty" from the U.S. government in exchange for information about the conduct of its prior management and its relationship to a government price-fixing probe that began in 1997.
Mergers and acquisitions experts, as well as white-collar defense lawyers who have handled similar cases, don't expect serious bidders to emerge until there is a sense of how much Sotheby's might be fined in the antitrust probe.
Individuals with knowledge of the Justice Department's investigation say that with the cooperation of Christie's, and with new information provided by at least one of its former executives, prosecutors believe they have a strong case against Sotheby's. Sotheby's has said it is meeting with prosecutors and trying to resolve its potential criminal problems. Under federal sentencing guidelines, fines could be as high as twice the amount of money a company is determined to have earned from its wrongdoing.
Sotheby's is also a defendant in more than three dozen lawsuits brought by sellers and buyers of art who claim they were overcharged as a result of allegedly illegal price-fixing. Typically, the size of settlements in such cases is largely shaped by the outcome of the separate government probe. Damages in civil antitrust cases can be as high as three times the amount a company earned from its wrongdoing. The extent of wrongdoing by Sotheby's, if any, isn't known.
"It's unusual [for bidders] to manifest interest in a company that's under criminal investigation until you can determine the full extent of the liability," said Robert Morvillo, a New York attorney who specializes in white-collar defense cases. "How do you evaluate what becomes of Sotheby's until you understand the full extent of the investigation?"
The difficulty in valuing Sotheby's is further complicated by the fact that its largest shareholder, A. Alfred Taubman, stepped down as chairman last week, creating uncertainty about what he will do with his shares. He remains on the board, but people close to the situation say he may be asked to relinquish his seat as early as the company's board meeting in April.
Spokesmen both for the company and for Mr. Taubman declined comment. Mr. Taubman still effectively controls Sotheby's; his total stock holdings represent a 22.5% stake, while his Class B holdings give him 63.6% voting control. Until Sotheby's reaches a resolution with the government, experts say he would likely have trouble selling his shares.
"Unless Sotheby's is willing to sit down with a potential buyer and spell out what the government wants here, it will be hard for anyone to make an informed estimate on damages," says Joel Cohen, co-head of M&A at New York investment bank Donaldson Lufkin & Jenrette.
The eBay takeover reports, which were first published in the British newspaper the Independent, followed earlier speculation that Bernard Arnault, head of LVMH Moet Hennessy Louis Vuitton, was exploring a bid for Sotheby's. People familiar with the situation say Mr. Arnault, who owns a competing auction house, London's Phillips Auctioneers, is not interested. LMVH declined to comment.
---
Morvillo, the New York attorney, suggests that other firms would not want to bid for Sotheby's because it is not possible to evaluate the company without knowing the full extent of the investigation. If this is true, why would the same argument not apply to other projects that Sotheby's may have invested in? What about investments in projects that are not fully operational yet?
Is the difficulty that potential bidders might have with Sotheby's also the reason why Mr. Taubman would, supposedly, have trouble in selling his shares? Or is there some element of the price of control of a large block of shares involved as well?
Is the fact that the uncertainty due to the Government investigation diversifiable relevant in explaining the supposed inability of firms to bid for Sotheby's? Would that not, in fact, make it easier for bidders to discount?
What part does information asymmetry play in this question? That is, might the fact that Sotheby's insiders know more about the facts behind the investigation the reason for bidders' reluctance to put in bids right away? If so, how does this differ from the usual information asymmetry problems inherent in any asset purchase of this kind?