A WALL STREET JOURNAL ONLINE NEWS ROUNDUP
June 23, 2006 3:09 p.m.
Anadarko Petroleum Corp. said it has agreed to buy Kerr-McGee Corp. and Western Gas Resources Inc. in separate all-cash deals totaling $21.1 billion, plus the assumption of $2.2 billion in debt.
The acquisitions, which would more than double Anadarko's annual sales, provide the Houston-based company with a bigger footprint in two burgeoning regions for natural-gas drilling -- the deepwater Gulf of Mexico and the Rockies -- at a time when the continent's demand is rising but overall output is stagnating. The deals will create the country's largest independent oil and natural gas producer -- meaning a company that finds and pumps oil and gas but doesn't refine it.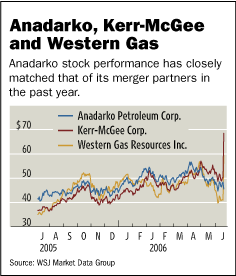 Anadarko will pay about $16.4 billion, or $70.50 a share, in an all-cash deal for Oklahoma City-based Kerr-McGee and assume debt and other liabilities estimated at $1.6 billion. Kerr-McGee said its stockholders will receive a premium of about 40% over Thursday's closing price of $50.30.
Anadarko will also pay about $4.7 billion, or $61 a share, and assume about $560 million in debt for Western Gas. Western Gas stockholders will receive a premium of about 49% over Western's closing price on Thursday of $40.91. "This transaction allows Western's stockholders to realize substantial and immediate value at an attractive premium," said Peter Dea, Western's president and chief executive. All three companies' boards have approved the transactions.
Investors, however, don't seem persuaded. Anadarko's shares lost about 8%, or $3.93, Friday, falling to $44.46. The news sent shares of Denver-based Western Gas sharply higher to $59.61, up $18.70, or 46%. Kerr-McGee shares jumped $18.29, or 36%, to $68.59.
Kerr-McGee's deal with Anadarko includes a right to match competing offers and a break-up fee of $493 million. The agreement with Western Gas includes a right to match competing offers and a break-up fee of $154 million. The deal must be approved by Kerr-McGee shareholders and regulators, but the companies said they expect it to close by the end of the third quarter.
POWERFUL TIES
The three-way merger of Anadarko Petroleum, Kerr-McGee and Western Gas Resources is the eighth-largest energy deal of all time, according to Thomson Financial. Here are the top ten deals.
Companies
Date Announced
Amount*
(in $bil)
Exxon-Mobil
Dec. 1, 1998
$78.9
Royal Dutch-Shell
Oct. 28, 2004
$74.6
TotalFina-Elf
Sept. 13, 1999
$50
British Petroleum-Amoco
Aug. 11, 1998
$48.2
Chevron-Texaco
Oct. 16, 2001
$35.9
ConocoPhillips-Burlington Resources
Dec. 12, 2005
$35.4
BP Amoco-ARCO
April 1, 1999
$27.2
Anadarko-Kerr-McGee-Western Gas
June 23, 2006
$20.6
ChevronTexaco-Unocal
April 4, 2005
$17.1
Phillips-Conoco
Nov. 18, 2001
$15.3
The hefty premium shows industry executives remain confident that natural-gas prices will remain higher than historical levels because of robust demand for a fuel used to heat homes, produce electricity and manufacture all sorts of petrochemicals. Imports of liquefied natural gas are on the rise, but building the ships and terminals necessary to support this side of the business takes years.
Moreover, with the cost of exploration rising and companies having a hard time gaining access to resources, analysts say acquisitions are a quick and easy way for companies to grow.
Skeptics on Alert
Anadarko's move follows other big-ticket acquisitions in the energy patch. Last year, Chevron Corp. bought Unocal Corp. for about $18 billion, and ConocoPhillips bought Burlington Resources for $36.5 billion.
Other companies in the energy sector, such as Exxon Mobil Corp., have been highly skeptical of the value of deals when energy prices are near record levels. They've opted instead to plow extra cash into share buybacks. Analysts and investors pilloried ConocoPhillips and pounded the shares after the Burlington deal was announced, saying the company overpaid and should have bought back shares instead.
Anadarko's deal will also challenge the skeptics. The company said in a release it plans to issue more stock to help pay down the debt from the acquisition. The combined company also will sell down assets and divert free cash flow to pay down the debt over the next 18 to 24 months. Anadarko said it will fund the entire deal with a $24 billion line of credit from UBS, Credit Suisse and Citigroup.
The fact that Anadarko is racking up debt to finance its two deals is adding to some observers' concerns. Standard & Poor's Ratings Service on Friday placed Anadarko's corporate credit ratings on CreditWatch for a downgrade, warning about both the heavy price tag and debt load associated with the acquisitions. At the same time, Standard & Poor's placed its ratings on Kerr-McGee and Western Gas on CreditWatch with positive implications.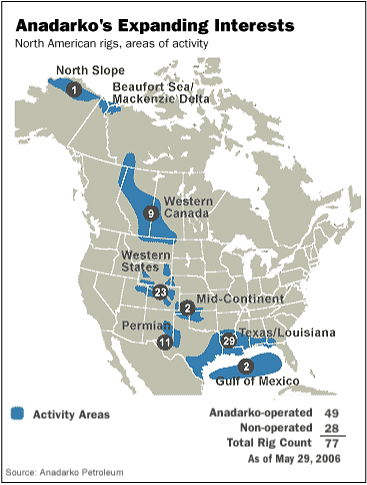 "Nobody likes this amount of debt on their balance sheet," said Oppenheimer & Co. analyst Fadel Gheit.
But defenders of Anadarko's deals argue that industry consolidation is necessary -- and likely to continue. The reason: Energy companies are confronting limits on their access to hydrocarbon resources, especially with turbulence and uncertainty in places like Russia, Nigeria and Iran. Even with bloated commodity prices, it's worthwhile for Anadarko and others to pay up in order to secure access to oil and natural gas-producing regions like the Rocky Mountains and deepwater Gulf of Mexico.
"There aren't too many places left," said Mr. Gheit. "It's like beach-front property."
Meanwhile, many of the world's oil and gas reserves remain off limits in countries like Saudi Arabia, and the high prices and greater competition of recent years has led countries like Russia and Venezuela to take a more nationalistic approach to their energy sectors.
Anadarko is betting heavily that equity markets have undervalued Kerr-McGee and Western Gas's reserves. "We believe we are capturing a substantial disconnect between current property valuations and equity market valuations," Mr. Hackett said in the release.
The company said it expects to recover 3.8 billion barrels of oil equivalent from the acquired properties at less than $12 apiece. Oil has traded around $70 for month. Anadarko said it will hedge 75% of the acquired production through late 2008.
Noncore Holdings
Combined, the companies would have more than $17 billion in annual revenue. Anadarko reported $7.1 billion in 2005 sales. Kerr-McGee revenue totaled $5.93 billion, and Western Gas had $3.96 billion in 2005 sales. Mr. Hackett said Anadarko will review the consolidated assets to select divestiture candidates, with the dual goals of paring acquisition-related debt and refocusing the portfolio.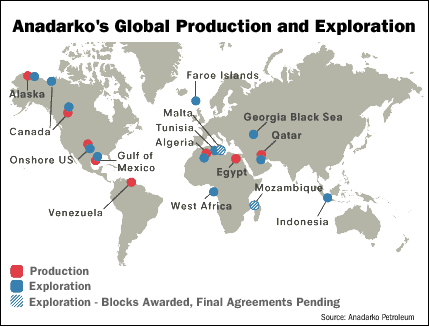 "All three companies have certain assets that we will likely deem to be noncore once combined," he said.
Kerr-McGee's core properties are located in the deepwater Gulf of Mexico and onshore in Colorado and Utah. The company has about 3,800 workers.
Western Gas's producing properties are located primarily in Wyoming. The company also owns and operates natural-gas gathering, processing and treating facilities in major gas-producing basins in the Rocky Mountain, Mid-Continent and West Texas regions. The company's work force totals about 800.
Anadarko, with about 3,300 employees, is one of the world's largest independent exploration and production companies, concentrated in North America. Its operations extend from the deepwater Gulf of Mexico, up through the western U.S. and Canadian regions and onto the North Slope of Alaska. Anadarko also has major positions in North Africa, the Middle East and Indonesia, as well as exploration or production operations in several other countries.
Deals Imply Greater Value
The Anadarko deal help drive up other energy stocks, including Williams Cos., El Paso Corp. The Dow Jones exploration, oil and pipeline sectors were also all higher in early afternoon trading Friday. The Integrated Oil & Gas index was posting the strongest gains of any index, up 5.15%.
Williams shares were recently up 7% to $22.09, El Paso rose 4.5% to $15.30 a share and Duke Energy Corp. rose 1.2% to $28.85.
Maureen Howe, an analyst with RBC Capital Markets, said Anadarko's purchase of Western Gas was driving the rise in Williams' share price Friday. "What people are doing is they're deriving a value ... implied in the acquisition price and they're doing a revaluation of Williams's gas assets," she said.
Both Williams and Western Gas Resources specialize in developing "unconventional" natural-gas assets in the U.S., including gas trapped in "tight" sands, shale and methane found in coal beds, particularly in the Rocky Mountains.
Unconventional gas assets -- particularly in the Rockies -- have become increasingly attractive to large energy companies, thanks to price increases, growing demand, declining output in traditional areas like the Gulf of Mexico shelf and improvements in drilling and rock fracturing techniques.