IF CONCEICAO do MATO DENTRO, Brazil -- The hills surrounding this isolated rural town contain a rich lode of iron ore and the seeds of one of the biggest cost overruns in mining history.
Anglo American PLC is spending $8.8 billion on a massive mine project here -- more than three times what it initially projected, and not a single ton of iron ore has been mined. The project, conceived by some of the best geologists and engineers in the world and currently employing 12,000, is three years behind schedule.
"I think all the time about what we could have done differently," Cynthia Carroll said in an interview. Mrs. Carroll, who still believes the mine will be profitable, stepped down as CEO in April after shareholders complained about cost overruns, especially at this mine, baptized Minas Rio.
Anglo American knew mining iron ore under cattle farms crisscrossed by strips of red dirt roads -- then processing and shipping it -- would be a logistical challenge. And it isn't the only one under pressure. With coastal areas tapped out, global mining companies are having to dig in increasingly remote areas, often in countries with unstable currencies, volatile economies, and uncertain legal systems.
The main reason for their big bets: Strong global demand from China. Swift urbanization has propelled the country's increasingly voracious demand for steel, and its main ingredient, iron ore. In 2012, China imported 745.5 million tons -- almost six times more than it imported a decade ago. That has caused prices to more than triple since Anglo American bought Minas Rio. However, China's economy has cooled a bit, and economists now expect steel demand to grow 2% to 3% in 2013, compared to around 10% annually between 2006 and 2011. That's impacting iron ore prices, which have fallen to around $111 a ton from a high this year of $159 in February.
Anglo American has doubled down and vowed to plow ahead at every bump in the road. "We still believe in a world where iron ore [mining] can be profitable at a cost of 50 dollars per ton," says Chief Executive Officer Mark Cutifani, who took over Anglo American in April.
The project journey has been a tough learning curve. Among other things, Anglo American didn't fully anticipate the extent of negotiations with dozens of Brazilian agencies, mayors, and local prosecutors, and close to 1,600 landowners in 32 small towns. Nor did it expect to do battle over a blind albino spider. Last year alone, three legal challenges including the spider battle, cost the company $1 billion in delays, legal fees and research.
Brazilian secretary of mining Carlos Nogueira da Costa, the country's third-ranked mining official, says he could have provided some warning. "Anglo American never checked with us before it made the first investment to understand how the permitting process would work," says Mr. Costa, who recalls learning about the acquisition in the newspapers while working for the ministry in 2007.
Mrs. Carroll said Brazil's policies and regulations have been constantly evolving and that she isn't sure she could have anticipated some of the problems.
Critics, including shareholders of Anglo, which is listed in London with a market capitalization of $33 billion, also say the investment was ill-timed, coming during a feverish run-up of asset prices just before the global financial crisis.
In the past six months, over a dozen major mining companies have announced big cost overruns, in many cases delaying projects. BHP Billiton PLC last year shelved a planned $30 billion expansion of its copper, gold and uranium Olympic Dam mine in Australia, citing rising costs and lower commodity prices.
Anglo American predicts the mine will be profitable once it finally starts mining in 2014. While company officials acknowledge it will take six years just to pay back the initial acquisition price of $4.6 billion plus capital costs of $8.8 billion, they say that the company will generate strong cash flows for at least 45 years after that.
The question, say analysts, is whether that timeframe will allow investors to get their money's worth out of the company.
Minas Rio started out as Mrs. Carroll's baby. When she became CEO of Anglo American in 2007, breaking through the ranks of the white male industry, her first big move was to buy the rights to Minas Rio from Brazilian billionaire Eike Batista for $4.6 billion in two deals.
A verdant valley nestled in the mountains, Minas Rio held over 5.8 billion tons of iron ore locked inside a rock called itabirite, nicknamed blue dust, that glistens like the steel it will become.
"The first time I went out there, I kicked the red dirt, and there it was, blue dust," says Paul Gait, who was part of an Anglo American team sent to look at the site. "You could immediately see, this had the potential to be massive."
The biggest challenge Anglo American's engineers faced was how to transport iron ore from a rural farming town more than 300 miles inland to a ship where it could be carried across the world to Chinese steel mills. "Iron ore is a relatively plentiful resource in the Earth's crust," says Mr. Gait. "Logistics are always the challenge."
Anglo American didn't have a rail network in Brazil. It could piggyback on Vale, which does have rail, but that would mean relying on a rival who could exact a high rent.
The company decided to build a slurry pipeline to transport watered-down iron ore 326 miles downhill to the port. When completed, it will be the longest iron ore pipeline in the world, crossing 32 small towns and 1,555 private properties.
Anglo American declines to disclose the exact breakdown in Minas Rio's costs and cost overruns. It says the pipeline has become the most disruptive part of the project, affecting 350,000 people, according to the company.
In some cases, engineers have had to reroute the pipeline around residents who didn't want to sell their property or move. "And there have been times when we've misjudged the topography and had to move the pipeline 1,000 feet to a different side," says Paulo Castellari, CEO of Anglo American Brazil. "And in both cases, those delays have caused us to have to spend on new structures and equipment."
Mr. da Costa, the mining secretary, says Brazilian officials feel Anglo American has played by the rules so far. "They are getting the necessary permits, so local communities have not felt wronged or inconvenienced."
The pipeline has exacerbated a problem faced by all mining operations: land access.
Arlete Miranda dos Santos, 47 years old, says she had lived in the same house for 27 years before, in 2006, "somebody came and told us we'd have to move in two years." Mr. Batista's company developing the mine paid Mrs. Santos $13,500 to move out. She gave $875 to her son, and $1,000 to other family members. She moved her family into a shack while trying to build a house.
Anglo American declined to comment on specific cases; Mr. Batista's representatives did not respond to requests for comment.
Under pressure from state inspectors and local prosecutors threatening to sue, Anglo American last year built her a new three-bedroom bungalow. The company won't disclose costs for fear of raising expectations among all landowners. "The company should have put us in this house at the time they moved us from the beginning," she says. "It's our right."
State civil servants monitor land compensation, and local prosecutors organize monthly hearings where residents can air their complaints. Anglo American says it has attempted to fairly compensate anybody displaced by the project.
On top of complicated resident issues all across southeastern Brazil, Anglo American has also had to bargain with local officials.
Until a decade ago, the road to get to the small farming town of 17,000 next to the mine site was unpaved, giving second thoughts to any mining engineers who noted its rich iron ore potential. It still has no traffic lights.
"When we found out Anglo American was going to come in, we were excited, but now we don't really think we're ready yet," says Sandro Lage, the town's 31-year-old environmental secretary. "The project is the result of much bigger, global forces. There came a point where we realized we weren't going to stop a global force, so we decided to try to impose as many conditions as possible so we could get what we could."
In March 2012, Marcelo Mata Machado, a prosecutor for Minas Gerais' state public ministry who works in a cramped paper-strewn office, joined four other local prosecutors in filing three motions against Anglo American.
Their list of complaints, drawn from residents in monthly town-hall meetings, included the allegation that Anglo American had not carried out a sufficient cataloging of prehistorical drawings, spear tips and other archeological artifacts. They also demanded that a construction-free zone around a cave containing blind albino spiders be expanded to 820 feet from 328 feet.
Mr. Machado, a 39-year-old lawyer from Belo Horizonte, the state capital city of two million, supports the company's right to mine "as long as it's done right." He describes his lawsuit as "a precautionary measure, we decided that work on the project couldn't go forward until the archeological studies were actually finished." He shows off an archeological report as thick as a phone book, the fruit of Anglo American's, and his, work.
"The environmental legislation is well minded and top class," says Mr. Castellari of Anglo American Brazil. "However, the infrastructure, the processes, the systems, even the people around it makes it more challenging to put into practice."
Mr. Castellari estimated that he spent "80%" of his time last year dealing with the injunctions. "I earned a law degree last year," he jokes. In London, Mrs. Carroll and shareholders were growing frantic. Mr. Castellari said there were times last year when he talked to his CEO every day. Shareholders called him directly, asking if there was nothing he could do to stop the bills from piling up.
In October, Mrs. Carroll, under growing pressure from shareholders about costs, announced she would resign.
Mr. Castellari estimates that dealing with the injunctions cost Anglo American $1 billion in legal fees, archeological work and monitoring. "We're ready for next time," he says.
By December, the injunctions were lifted. The company agreed to build a museum to house all the archeological artifacts on site -- a demand from locals -- and Anglo was allowed to resume building the plants that will crush the iron ore and conveyor belts to transport it.
It also agreed to restore Igreja Matriz, a 211-year-old church that town elders had condemned in 2005. The project, which Anglo American said it had planned even before the court ruling, cost $2 million.
Mining companies refer to the goodwill they receive in return for such projects as their "social license to operate."
The problem for Anglo American is that every time it's faced legal hurdles or had to negotiate with landowners, there have been lengthy delays and creeping costs. And it was hit by the same cost inflation that has whacked others in the industry. Mining trucks cost 70% more than in 2007 when Anglo first started estimating how much the project would cost. Land prices have grown tenfold. The annual inflation rate for cement is 16%.
Also, Brazil is hosting the 2014 World Cup, and Rio de Janeiro the 2016 Olympics. Already, construction crews and engineers are charging a premium.
The tight supply of labor makes managers loathe to lay off workers during delays caused by legal tussles or a rainy season between November and March. Mining site manager Leandro Tunussi said he has had to "demobilize" hundreds of workers at a time, continuing to pay them when work was halted.
The port presented yet more massive, and expensive, engineering challenges. It had to build a breakwater with 14,000 molded cross-shaped pieces of concrete, each weighing 3.5 tons, to be placed on the ocean floor and prevent storms and waves from harming ships. It has also built its own quarry to supply rocks to the project, estimated to be completed by the end of 2014. Cost of the breakwater alone: $400 million.
"We're spending a lot now so we can save a lot later," says port general manager Luiz Pereira Nunes on a recent visit.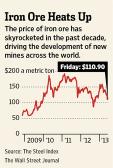 Credit: By John W. Miller and Paul Kiernan