Fin 320 ADVANCED FINANCIAL ANALYSIS Fall 1997
69663: Monday, Wednesday 10:10-12:10 a.m.
Prof. P.V. Viswanath Goldstein 108 (914) 773-3906
Office hours: Mon. 3:30 p.m. to 5:30 p.m., Wed. 1:00 p.m. to 3:00 p.m.and by appointment
Email: viswanat@pacevm.dac.pace.edu
---
---
The primary objective of this course is to provide the student with the theoretical background and analytical tools necessary to sound financial decision-making. Other objectives include: 1) preparing students for more advanced work in finance and investments; 2) an appreciation of financial and economic reasoning to provide the capability to read and understand advanced finance materials; 3) the ability to apply the lessons of finance in a practical context.
When you have completed this course successfully, you will be familiar with:
The meanings of fundamental financial concepts.
Asset valuation: how to value assets, defined broadly, e.g. firms, projects, stocks, and bonds.
Risk-return models: how to price risk, i.e. how to adjust the value of an asset to take into account the riskiness of the asset.
Optimal Capital Structure and the general principles of asset financing theory: how to and how not to finance a firm or project.
Dividend Policy: how to decide how much to pay out in dividends and when to pay them out.
Corporate Finance: Theory and Practice, by Aswath Damodaran, John Wiley and Sons.
This is the first time that I am teaching this course, and this is the first time that I am using this textbook. The book itself is a first edition, and hence, there are some errors. This means that we need to try and understand critically what we read in the book (which is always a good trait to have), just in case we happen to have stumbled upon an error. On the other hand, this is one of the few books in the market that explain how to apply theory to practical situations. This is why I have chosen the book. To a great extent, I expect that we will use the book as a manual, using it in applications whenever we need it. I look upon this course as an opportunity to teach and to learn. The way I see it, there are three players in this course: the teacher, the students and the textbook. I expect that we will all be ready to capitalize on the different interactions possible between these three players.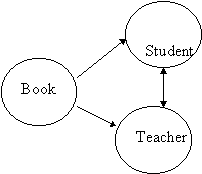 Let me emphasize once again: this book is pure gold (tarnished in a very few spots). Read it thoroughly, if critically. You certainly won't be wasting your time if you did so.
Please obtain a mainframe computer account or an email address where I can send you e-mail, as soon as possible. A computer account can be obtained at the Academic Computing Lab upon production of a student ID with a Fall 1997 sticker, or some other valid proof of registration with a picture ID. You must also know how to use a Web browser like Netscape, so that you can read and/or download materials that I will periodically make available on the FIN320 Home Page. Check your e-mail periodically. You can do this by using Netscape; you do not have to log into the mainframe at all. Instructions on how to do this have been posted on the Web. You should also look at the FIN320 Home Page on a frequent basis every week. This will enable you to get the maximum from the course. I am available for consultation by e-mail at viswanat@pace.edu. I check my e-mail practically every day, and, in most cases, you should get a speedy response to any questions. Also, if you go to my home page, you will notice that you can communicate with me online (in real time), using your browser.
Before we address the details of course requirements, I want to emphasize that this course will be taught and learned with a lot of computer usage. If you are uncomfortable with using the computer, or are unwilling to learn, or do not want to use it intensively for any reason, you may not want to take this course.
Throughout the term, you should read each assigned chapter of the textbook before we begin it, while we are working through it, and also after we complete it; class sessions are meant to complement the text, rather than substitute for it. All students should also bring a calculator to all class meetings.
The following projects will be done in class; you must follow the presentation in class and complete the project in class. Successful completion of the project will fetch you the maximum points allocated to the project.
The analysis will be done using EXCEL. You must make sure that you have a sufficiently good understanding of EXCEL.
Class attendance is mandatory. Class attendance will be factored into the grade, and missing too many classes may lead to serious consequences for your final grade. If perchance you should miss a class, please check with other class members as to what was done during the class time that you missed, and collect handouts for that day's session, if any. In particular, absences during the administration of exams/quizzes and the execution of computer exercises in class will affect your grade adversely.
There will be two exams in the course, a mid-term and a final. Exams are closed book, but cheat sheets will be permitted. In general, I will try to formulate questions similar to those at the end of the chapters. Examples of previous FIN 301 exams and previous FIN 320 exams are available on the Web. I have also put up some previous exams that I gave in a graduate level Financial Management class at Rutgers. However, exams in previous terms and from other courses may not be an accurate indicator of how difficult your own exams will be, or of the content. Keep in mind also that previous exams were typically open book; hence it may be difficult to make inferences from previous terms to the exams this term. If you cannot make an exam, you must let me know beforehand with a good excuse. If you miss an exam without being excused, I cannot give you any credit for that exam.
I have set up a FIN320 newsgroup/bulletin board. I have not assigned a definite portion of your grade to Newsgroup participation. However, I think you will find participation in the newsgroup useful in many ways. What can you post to the newsgroup? You can post your
ideas,
views,
your opinions as to why the exam that I gave was difficult (or not difficult),
how to interpret interest rates,
how you recommend studying for my exams,
how to overcome difficulties on accessing the Web,
information on this new article in the Wall Street Journal,
replies to your friend's posting and so on and so forth.
Since this newsgroup will be on Netscape, you should be able to include weblinks in your posting. Hence, you may find it worthwhile to browse various on-line magazines, such as Financial Analysts Journal; newspapers such as the New York Times, Wall Street Journal, Barron's etc; magazines such as Fortune, Money, the Economist, Business Week, etc; In addition, you can find a multitude of other links at my Finance webpage.
In order to use all aspects of the newsgroup, you will need to know a minimal amount of HTML. For some useful links in this area, visit my home page at the teaching link. You may also contact the Academic Computing Lab at 914-773-3630 for more information. The Academic Computing Lab is located on the 2nd floor of Willcox Hall. Hours of operations are Monday-Friday: 8am-10pm and Saturday-Sunday: 9am-6pm. The general phone number of the Lab is 914-773-3642.
In order to access and use the newsgroup, you must login as a new user at the Webboard website. Once you get there, you will find instructions that should be relatively easy to follow. Why don't you try it right now, and post your first message?
In addition to the course requirements discussed above, you should try your hand at the problems at the end of each chapter. I have tried to select and list (see time-table) some problems from the back of each chapter that we will be studying. Some of these problems will be discussed in class. No problems are expected to be handed in, although you may come to see me if you need help with any problem. If you want, you can take a look at the problems that I had assigned for the Spring term. Again, these problems are not required to be handed in.
Your final grade will be determined as follows:
| | |
| --- | --- |
| Factor | Impact on grade |
| Mid-term | 30 % |
| Final | 40 % |
| Four Quizzes Based on Study Guide | 5% each |
| Classroom Work Assigned throughout the term | 10 % |
| Attendance | Taken into account; may be significant in extreme cases |
| Class participation | Taken into account |
| Newsgroup Participation | Taken into account |
I try to be fair in my grading. This means fairness across students, and not necessarily comparability with grading standards across courses. Although I will try to assign numerical grades so that an A corresponds to 90, a B corresponds to 80, etc., this may not always work. In any case, I will attempt to provide you with a tentative grade as the term progresses, and, in particular, after each exam, so you have some idea of where you stand. In addition, I invite all students to set up appointments with me either to discuss class materials or grades.
Prerequisites:
Students must have satisfied all prerequisites for this course, viz. FIN 301 and FIN 307. I will presume complete familiarity with all topics taught in these courses. In particular, understanding of the following material will be presumed. To get an idea of what I expect you to know, you can look at my Fall 1996 syllabus for FIN 301.
To assure yourself that you are ready, you may want to attempt the assignments that I gave my FIN 301 class in the Fall 1996 semester.
Data Cards
On the index card handed out in class, please fill in the information requested below. Bring a passport-sized photograph of yourselves to the second class; this is strictly for identification purposes, so it doesn't matter how you look! (I will return it to you at the end of the term, upon request.)
Name
Home and Work Phone number
Fax number, if any
Email address
Functional expertise/interest in business administration (e.g. accounting, finance, personnel administration)
Work experience, if any (provide particulars of what your duties were)
Previous knowledge of finance (if any)
Interests outside of business management (such as languages, music, etc.)
What spreadsheet program do you know?
Where did you learn it, and when?
When did you take the prerequisites for the course?
Please leave space on the top right hand side for your photograph.
Course Outline and Time-Table
Class Meeting
Chapter
Study Material
Problems
Sept. 8
1, 2
Introduction; discussion of syllabus, etc.
None.
Sept. 10
2
Firm Objectives
Concept Checks p. 12(1), 13, 17, 18, 25; Problems 6, 7.
Sept. 15
3
Present Value; Separation Theorem
Problems 2, 3, 8, 16, 18, 20, 21.
Sept. 17
3
Present Value
Sept. 22
5
CAPM, Adjusting for non-diversifiable risk
First Study Guide Quiz;
Problems: 2, 3, 6, 8, 9, 11, 14, 15
Classroom Project: Portfolio Analysis with two assets
Sept. 24
CAPM
Classroom Project: Portfolio Analysis with more than two assets.
Sept. 29
6
Practical Issues in Estimating risk premiums.
Problem 4, 8, 14, 20, 21, Concept Check p. 141
Classroom Project: Beta Computation
Oct. 1
6
Practical Issues in Estimating risk premiums.
Oct. 6
7
Capital Budgeting Decision Rules: Accounting Income based rules, Cash flow based rules, IRR.
Second Study Guide Quiz;
Problems: 1, 3, 4, 7, 13, 14, 15
Oct. 8
7
Capital Budgeting Decision Rules: Accounting Income based rules, Cash flow based rules, IRR.
Oct. 13
8
Problems in Estimating Cash Flows
Problems: 1, 6, 8, 13, 16, 17
Oct. 15
8
Problems in Estimating Cash Flows
Problems: 2, 4, 5, 8, 13, 16
Oct. 20
Midterm
Problems: 1, 2, 4, 5, 9
Oct. 22
15
Capital Structure: An Overview of Financing Decisions
Oct. 27
17
Capital Structure: Tradeoffs and Theory
Problems: 4, 6, 8, 10, 11, 14, 16.
Oct. 29
18
A Practical Framework for Analyzing Capital Structure: Cost of Capital Approach only
Nov. 3
18
A Practical Framework for Analyzing Capital Structure: Cost of Capital Approach only
Problems: 2, 4, 10, 13, 19, 22.
Classroom Project: Capital Structure Analysis
Nov. 5
20
The determinants of dividend policy
Third Study Guide Quiz
Problems: 2, 4, 10, 13, 19, 22.
Nov. 10
21
The determinants of dividend policy
Nov. 12
21
A framework for analyzing dividend policy
Classroom Project: Analysis of Dividend Policy
Nov. 17
27
Option Theory: my notes
Fourth Study Guide Quiz
Nov. 19
27
Option Theory
Problems: 1, 2, 4, 5, 9
Nov. 24
28
Options in Capital Budgeting: the option to expand a project
Dec. 1
28
Options in Capital Budgeting: the option to expand a project
Problems: 6, 10, 13, 14, 17,
Dec. 3
31
Final Review
Dec. 8
Final Exam